The Countermark Coinage of New Lanark Mills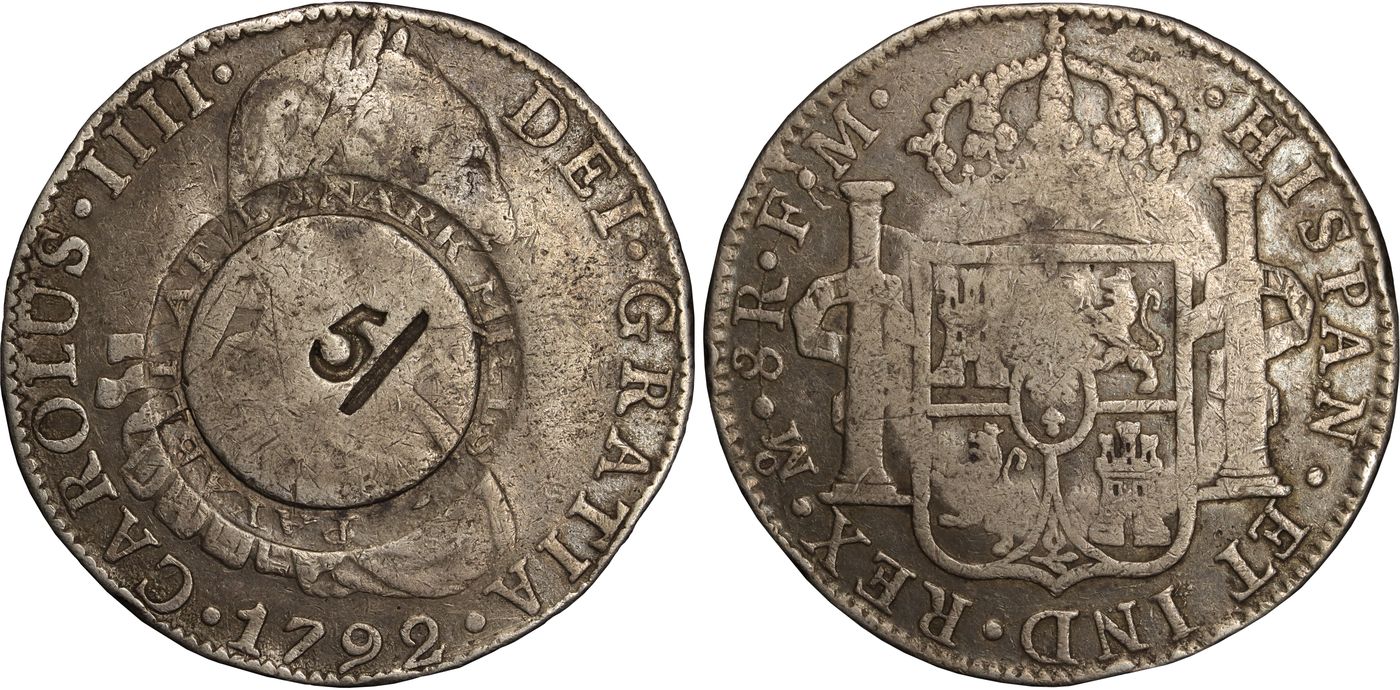 Scotland, Lanarkshire, New Lanark Mills, Silver 5 Shillings, counter-marked circa 1800-1820 over a Mexico 8 Reales of King Charles IV dated 1792 Mo FM, struck at Mexico City. Obverse (Host coin): Laureate bust of King Charles IV facing right, "CAROLUS· IIII· DEI· GRATIA ·1792·"; Denomination "5/" counter-stamped within a counter-stamped circle, "PAYABLE AT LANARK MILLS". Reverse: Crowned Shield of Arms of the Spanish Monarch (1700-1868) flanked by the Pillars of Hercules, "· HISPAN· ET IND· REX· Mo· 8R· F· M·". KM-CC66. One of the higher denominations for the counter-stamp series of New Lanark, a modest grade that appears to have extensive circulation before and/or after it's re-value. Good Fine, Counter-stamp the same.
The cotton mills of New Lanark was founded in 1786 by Mr David Dale, a successful entrepreneur, industrialist and philanthropist of the Scottish Enlightenment period of the late 18th century, and was situated in the Lanarkshire region, Scotland, approximately 1.4 miles from the town of Lanark. Utilizing water-powered cotton spinning machinery developed by Dale's current business partner Mr Richard Arkwright, the mills quickly developed into a thriving business, becoming the largest in Scotland. At the beginning of the 19th century, New Lanark, which included the mills as well as the surrounding residential village, was sold for the large sum of £60,000 to a partnership which included Dales' son-in-law Mr Robert Owen.
Similar to his predecessor, Owen was an industrialist and quickly sought to optimize the mill's business practices, tightening control of costs, quality and management practices as well as monitoring wages and dismissing unnecessary employees. Further to this, living conditions for the surrounding residential village was improved and facilities such as free schooling and a church were added. Although strict, Owen proved to be fair and won the approval of his new business' workforce.
New Lanark cotton mills is a typical example of early 19th century Scotland and its contribution to the Industrial Revolution; with the growing level of industry, manufacturers were eager for coinage to facilitate business, a request that the Royal mint was unable to fulfill. With a shortage of silver and a growing need to fund the war effort during the Peninsular and Napoleonic Wars, the price of silver was increased above the previously established Five Shillings Two Pence per troy ounce, resulting in the silver coinage crisis of the late 18th century. This is evidence by the clear lack of silver denominations under King George III, only minting sixpences and shillings (plus maundy sets) until the new coinage period of 1816, as well as several series of countermarked coins such as the oval and octagonal countermark dollars and the Bank of England Dollars of 1804.
Scotland, Lanarkshire, New Lanark Mills, Silver 5 Shillings (26.52g, 40mm), circa 1800-1820 AD, countermarked upon a Spanish Silver 8 Reales of King Charles IV, 1799 Mo FM, struck at Mexico City. Obverse: Large countermark of the denomination at the centre surrounded by light ring countermark bearing the legend "PAYABLE AT LANARK MILLS" over the laureate, draped and cuirassed Bust of King Charles IV facing to the left, host date below, host coin legend surrounds, "·CAROLUS· IIII· DEI· GRATIA·". Reverse: Royal Coat of Arms of Spain, Pillars of Hercules type (1700-1868), legend surrounds, "· HISPAN· ET IND· REX· Mo· 8 R· F·M·". KM-CC66. Although holed over "I" of "DEI", a nice example with dark toning, seldom seen for available for commerce, semi scarce as such, Counter mark Very Fine, host coin near Very Fine.
https://colonialcoins.com.au/wp-content/uploads/2022/02/10th-WC-10.jpg
900
900
Charles Brooks
https://colonialcoins.com.au/wp-content/uploads/2022/02/Final-Icon-2.png
Charles Brooks
2020-11-06 13:40:45
2022-03-15 11:59:48
The Countermark Coinage of New Lanark Mills