Much like many things, Colonial Coins and Medals owes its foundations as a numismatic dealership to humble beginnings – the childhood interest of its founder, Mr Peter Brooks. With many passions as a young man, particularly in the scientific fields, Peter pursued Biology at university and ended up working full time with the CSIRO – although interested, this proved to be far from his calling! With the blessing of both parents, he decided to pursue another of his passions, the science of coins, medals and tokens.
Peter had a love for the items themselves, as he appreciated their history and significance, although more importantly was his appreciation for the very essence of what it is to collect – to explore your interests and collect out of enjoyment and happiness. A fond memory he recalls which typifies his foundations as a passionate collector was when he was 16 and visiting London – their holiday schedule would always have some leeway to visit the English coin shops. On this particular occasion, Peter visited 'David Bark Rare Coin Gallery' in the London Haymarket where he purchased a mint state Charles II 1665 Pattern Farthing struck in silver, a piece still in our collection.
Colonial Coins and Medals, a humble Beginning.
First conceptualized as 'City Stamps and Coins' in July 1985, the business would undergo several name changes, first in 1987 as 'Brisbane Coin Gallery' and again in 1989 to 'Colonial Rare Coins'. Although a formidable name, change was needed once again as there was confusion – customers thought the business only dealt in rare 'colonial' coins! In response, the name 'Colonial Coins and Medals' was born.
Now an established Brisbane coin dealer with a suitable name and image, Peter made the next major commitment and purchased our current retail premises in the Brisbane Central Business District from Mr Frank Taylor in 1997. Frank was a long-time, established dealer and the figurehead of 'Taylor's Coin Service', a numismatic company founded in 1966 at the dawn of Australia's transition to Decimal Coinage. With the purchase of Taylor's Coin Service and the amalgamation of the two companies, coupled with his ever-growing reputation as an industry leading professional, Peter would go on to building the business to where it is today.
Colonial Coins and Medals continued its retail dominance and would venture into several pursuits, most notably a series of 18 Numismatic Auctions in the early 2000's that would spearhead the business into the worldwide market. Peter maintained this national presence through overseas coin shows and through being a frequent world traveller, building business relationships with many of the numismatists in England and South East Asia.
Colonial Coins and Medals, a New Chapter.
In 2020, Charles Brooks joined the family business full time, creating a formidable team. Charles' energy, passion and modern perspective continues to move the business forward, and his efforts have yielded the creation of this fine website, improved social media presence, as well as the 'Colonial Gazette' – our online blog – which will continue to produce interesting articles about all areas of numismatics.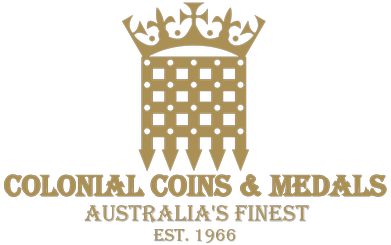 The idea of Colonial Coins and Medals is embodied by our logo choice: the crowned Portcullis of the Tower mint inspired by the iconic Portcullis Money Series, struck by the Honourable East India Company in 1600-1601 AD under Queen Elizabeth I. Conceptualized in the image of the Spanish Real, the four denominations of Eight, Four, Two and One Testern were struck with the weight and composition of their Real counterparts; they adopted the name 'Portcullis Money' due to their striking and memorable reverse, and were England's first trade coinage intended for the maiden voyage of the incorporated 'Governor and Company of Merchants of London Trading into the East Indies'. Prompted by the growing colonial power of her neighbours, particularly the Spanish and Portuguese, England intended for this 'Portcullis Money' to promote outside trade, principally in the far east.
Being England's first trade coinage, the Portcullis Series therefore has a deep connection to the expansion of the English Empire and the establishment of colonialism – consequently, the Portcullis Piece has become the icon of Colonial Coins and Medals.
Colonial Coins and Medals, our Current Chapter.
With the new website, we hope to meet the world market as industry leaders. Our philosophy is simple: we offer the highest quality service possible, we are passionate about the material we offer and hope to promote that same passion within our community through our numismatic expertise, business professionalism, and our bespoke service.
We are always looking to purchase either single numismatic items or whole collections, and are able to offer direct purchase or consignment.  It would be our pleasure to explore the options available to you.
Please enjoy our website. We look forward to hearing from you anytime.